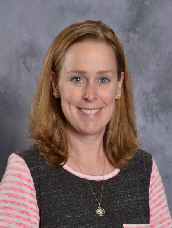 Betsy Speer
HS English Teacher
Phone: 989-619-2890
Degrees
Central Michigan University

College

Central Michigan University

College

Central Michigan University
Educational Background: Bachelor of Science in Secondary Education from Central Michigan University.
Classes you teach and or your job title(s): I teach high school English, which includes English 9, 10, 11, 12, AP Literature and Composition, AP Language and Composition, and Speech.
Family Details: I have been married to Jeremy for ten years. We have two daughters, Isabelle and Juliet, who both attend St. Mary.
Favorite Special Treats: Time well spent is my favorite special treat. I enjoy spending time with my family both on the go and at home and with my Snowbird family in the classroom and on the sidelines. Go Snowbirds!
Favorite Color(s): My favorite color is Turquoise. Less specifically, most shades of blue and green are beautiful to me.
Favorite Bible verse: "Be Still and Know I am God." Psalm 46:10
Classroom Mission Statement or Guiding principals: Every child deserves a champion. I spend all day, everyday building meaningful relationships with students in order to help them discern their God-given gifts and cultivate their reading, writing, speaking, and language skills, so that they may become the best version of themselves.