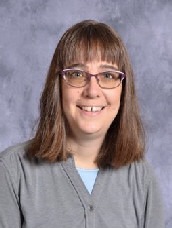 Ami Peterson
Reading Specialist
Employed Since: 9/3/2014
6 Years Experience At School
Educational Background: Bachelor of Science from Aquinas College, Master in School Counseling from Central Michigan University
Job title(s): Reading Specialist, Catechetical Leader
Family Details: Married to Matt (1991 alumni) and we have three children
Favorite Special Treats: Lindt chocolate (red), milk chocolate covered raisins, black cherry ice cream
Favorite Color(s): blue
Favorite Bible verse: Matthew 19: 26 Jesus looked at them and said, "For human beings this is impossible, but for God all things are possible."
Guiding principals: Every child can learn. My job is to get them from point A to point B.
Interesting Fact: I grew up in Gaylord and lived in Ishpeming, MI for three years.