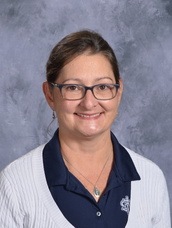 Tracy O'Connell
Guidance Counselor
Educational Background: I earned a Master of Arts degree in Counseling (with a focus on School Counseling) from Spring Arbor University in 2011 and have a BA from Michigan State University, where I majored in Criminal Justice and Psychology. I have worked with youth and their families in a variety of environments for over 20 years, including Catholic Human Services, Inc. as a Certified Prevention Specialist. My most proud and primary job is still being Mom.
Classes you teach and or your job title(s): School Counselor
Family Details: I am the wife of a very driven husband, (especially related to football ), Kevin O'Connell and mother to two wonderful boys, Joseph (12) and Nathan (8) who we feel are blessed to attend St. Mary Cathedral School. We have been members of St. Mary Cathedral Parish since 2007 and love being a part of the parish and school community!
Favorite Special Treats: Chocolate and coffee
Favorite Bible verse: "Be still and know that I am God." Psalm 46:10
Classroom Mission Statement or Guiding principals: I am dedicated to help your children succeed as we promote together their lifelong discipleship in the Lord and academic excellence! Go Snowbirds!!
"It is an honor be part of the team staff at St. Mary Cathedral School. I am blessed to work with the youth of St. Mary as they direct their God-given talents into their current and future paths. Go Snowbirds!"